ILS24H
Improve your presentation delivery. Present with ease and confidence.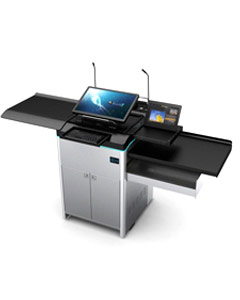 This beautiful compact design of a lectern offers all functions needed in lecture halls and auditoriums. Generous electrical height adjustment is key for user comfort when annotating on the large display.
The main display is a choice of technology, most likely the WACOM 22" pen/multi-touch interactive monitor, our 21.5" HD pen-interactive monitor you're your choice monitor that fits on our VESA mount plate.
This ILS SpeakersCorner family system comes with detachable ILS SlideSight multi-functional control/console/preview or confidence monitor or prompter with integrated USB and card hubs. This lectern / epodium meets ADA / DDA standards and is therefore suited for seated use as well.
ILS software supports the system: config-Q automatically sets up your control system, room-Q supports remote assistance and control, and sho-Q helps you present and annotate with ease. Discuss the full recording, streaming and lecture on demand system cast-Q that ILS offers in partnership with Learning Valley, with many advanced interactive features
Recommended use:
lecture hall
auditorium
e-learning, streaming
Manuals
Drivers
Rack Drivers for ILS24H
Touchpanel Drivers ILS24H
Chipset Drivers ILS24H