ILS Synergy SC
Improve your presentation delivery. Present with ease and confidence.
New Synergy cabinet based Classroom Lectern system on multi plate floor module with lockable casters. The Synergy top allows you to easily and quickly change the inserted technology. Lockable cabinet (both sides), lockable top cover and lockable drawer make for an easy to secure system.
Popular Touch / Pen display instalations are:
22" Wacom DTK-2241 / 2242
22" ViewSonic PD2211 HD Pen / Pen and Touch monitor
24" Smart SP524-SMP
Alternatively you can insert your own VESA mount display - call us to discuss compatible model.
Options:
Integration of 4 speaker array in the front of the top.
Classroom control system and 4x1 HDMI switcher
Audio package (wireless handheld/lapel/mixer/amplifier 280W)
Hovercam SOLO 8MP document camera
sho-Q2020 on included state-of-the-art PC
(latest geneneration industrial PC, 8GB RAM, 128GB SSD, 500GB HDD, WIN 10)
lockable cover over the top
Recommended use:
Connectivity: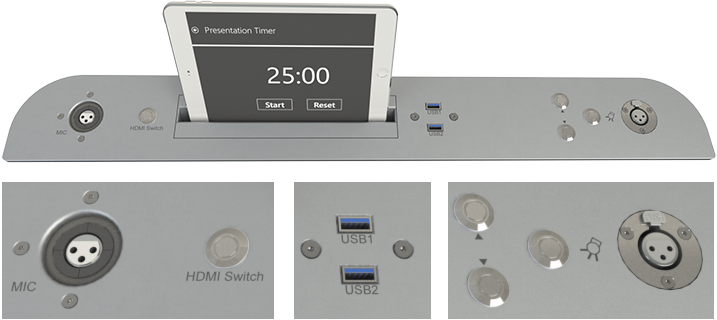 Top dashboard comes with 2 x XLR microphone sockets:
One XLR socket is 3-Pin shock mount microphone socket.
Second can be configured as 3-Pin XLR for second microphone or 4-Pin for reading light.
Pedestal Up/Down buttons and 2 x USB sockets.
Horizontal side tables, a HDMI switcher, VGA connector loop-through.