ILS Synergy ST
Improve your presentation delivery. Present with ease and confidence.
Efficient design lectern with stylish Synergy Compact top and VESA mount plane that can hold a 20 - 27" interactive touch monitor or a tablet PC. You can contact us to verify the compatibility of the VESA-mountable monitor you intend to use. A reading light included, microphone on request.
Popular Touch/Pen display instalations are:
21.5" Wacom DTK-2241 / 2242
22" ViewSonic PD2211 HD Pen / Pen and Touch monitor
24" Smart SP524-SMP
Alternatively you can insert your own VESA mount display - call us to discuss compatible models. The Synergy Universal top lets you quickly exchange inserts, so you can easily switch to a simple wooden - Synergy WW or aluminum surface - Synergy AW.
Recommended use:
Connectivity: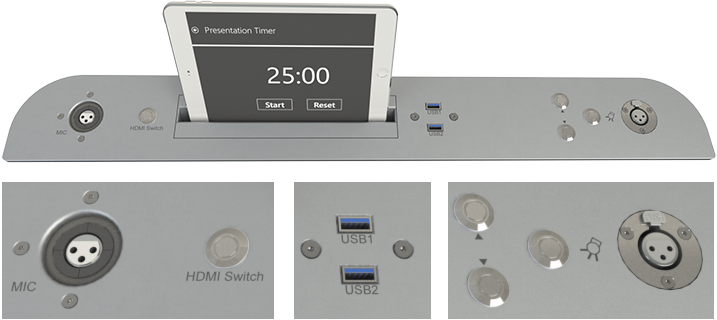 Top dashboard comes with 2 x XLR microphone sockets:
One XLR socket is 3-Pin shock mount microphone socket.
Second can be configured as 3-Pin XLR for second microphone or 4-Pin for reading light.
Pedestal Up/Down buttons and 2 x USB sockets.
Horizontal side tables, a HDMI switcher, VGA connector loop-through.
Technical specifications:
Dimensions
Width
No side plates: 20cm pillar, 70cm top
With side plates: 140cm top
side plate size: 36cm x 26cm
Height
User side min: 80cm, max: 120cm
Audience side min: 94cm, max: 134cm
Weight
60kg
Integration
Computer Support
VESA mount monitor*
Space for mini-PC*

Popular configurations:
Wacom 2240/2241 or ViewSonic Pen/Touch Monitor
mini-PC: Giada i59u

*Custom configuration possible
Audio
1 x shock mount XLR socket
1 x regular mount XLR-3 pin Socket for microphone
(or 1 x regular mount XLR-4 pin for the reading light)
Optional 4 speakers integrated into the top with 280W amplifier.
Connectivity
Side connectivity panel
Laptop connectivity: HDMI, DP, VGA and 3.5 Audio, Ethernet
Integrated computer expansion ports:
2 x USB Sockets for external USB devices
Top dashboard
8" wide tablet holder for control panels and tablets with integrated Apple Lightning and/or Micro USB charging plugs Integrated computer expansion ports: 2 x USB Sockets for external USB devices
Bottom cabling
Second display connection HDMI of integrated computer
HDMI, DP, VGA and 3.5 Audio cables from connectivity side panel or integrated 4x1 HDMI switcher with one HDMI/CAT6 output cable in the bottom.
Ethernet, Power, Microphone output: XLR cable per microphone
Datasheets