ILS Synergy WW
Improve your presentation delivery. Present with ease and confidence.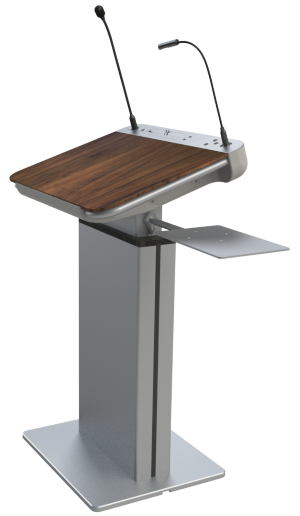 New modular design with SYNERGY Universal top styling, thick wood plate to hold all your presentation notes and laptop. The hand-made wide wooden plate perfectly fits the 70 cm wide top. This lectern comes with optional side tables, on a wide height adjustable pillar, ideal to customize with an engraved logo!
Recommended use:
Connectivity: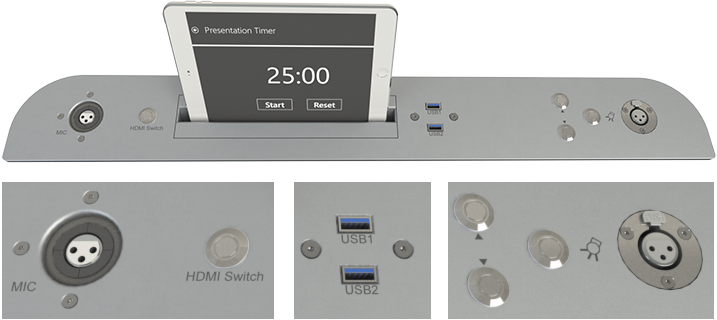 Top dashboard comes with 2 x XLR microphone sockets:
One XLR socket is 3-Pin shock mount microphone socket.
Second can be configured as 3-Pin XLR for second microphone or 4-Pin for reading light.
Pedestal Up/Down buttons and 2 x USB sockets.
Horizontal side tables, a HDMI switcher, VGA connector loop-through.
Technical specifications:
Dimensions
Width
No side plates: 42cm pillar, 70cm top
With side plates: 156cm top
side plate size: 36cm x 26cm
Height
User side min: 94cm, max: 120cm
Audience side min: 114cm, max: 140cm
casters add 7cm
Weight
70kg
Integration
Computer Support
Place your laptop on top surface or sideplates
Wooden top surface size: 70cm x 45cm
Handrails covered
Audio
1 x shock mount XLR socket
1 x regular mount XLR-3 pin Socket for microphone
(or 1 x regular mount XLR-4 pin for the reading light)
Optional 4 speakers integrated into the top with 280W amplifier.
Connectivity
Side connectivity panel
Laptop connectivity: HDMI, DP, VGA and 3.5 Audio, Ethernet
Integrated computer expansion ports:
2 x USB Sockets for external USB devices
Top dashboard
8" wide tablet holder for control panels and tablets with integrated Apple Lightning and/or Micro USB charging plugs Integrated computer expansion ports: 2 x USB Sockets for external USB devices
Bottom cabling
Second display connection HDMI of integrated computer
HDMI, DP, VGA and 3.5 Audio cables from connectivity side panel or integrated 4x1 HDMI switcher with one HDMI/CAT6 output cable in the bottom.
Ethernet, Power, Microphone output: XLR cable per microphone
Datasheets