ILS22M
Improve your presentation delivery. Present with ease and confidence.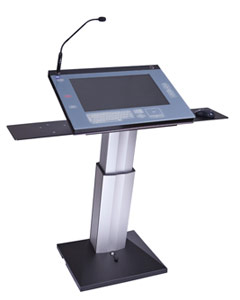 The ILS22M with sho-Q Presenter is so intuitive to use, that no operator training is required. Just bring your presentation on a USB stick, plug it in, and you are ready to go. Alternatively you can preload all presentations on the lectern, and at a later time start your presentation with a single touch.
The ILS22M lectern / podium represents a complete technology package for presentation solutions. It is a stylish all-in-one presentation console in versatile 1.5" – 3" flat box, with 22" full HD monitor plus surrounding room and source controls, keyboard and annotation pad, engraved in a 31" true multi-touch glass cover. There is no bezel around the glass, which allows for very easy cleaning and disinfecting. The durable 5mm thick aluminum packaging comes with XLR3 microphone and reading light sockets.
Recommended use:
boardroom
auditorium
hospital